Advantages and disadvantages
*Advantage:
Vietnam is among the top 10 cities with low living costs. With the money saved for retirement, you can comfortably enjoy delicious meals, long trips, and good accommodation.

The cuisine is one of the fascinating and unique cultural features of Vietnam in the eyes of international friends. Similar to traditional dishes of Asian countries, Vietnamese cuisine meets all factors of health and psychology for customers. Each Vietnamese dish has a harmonious combination of 5 flavors: salty, sweet, sour, spicy, and biter. The harmonious combination brings lively and memorable experiences to customers.

The country of Vietnam stretches more than 2,000 km from the South to the North. Nature bestows on Vietnamese people a beautiful and rare strip of land in the world. Vietnam possesses numerous beautiful and majestic landscapes, unspoiled and unique. You can see beautiful places anywhere in Vietnam.

Another advantage of living in Vietnam is that more and more people speak English. This subject is compulsory in elementary schools. Adapting to a new culture and language is often difficult for foreigners. However, English is becoming increasingly popular and important in Vietnam.
*Disadvantage:
Vietnam visa policy for foreigners has a lot of strict rules to comply with. For example, foreigners who want to retire in Vietnam are only granted tourist visas, with a term of 1 to 3 months. If you have a Vietnamese parent or spouse, you can apply for a visa exemption for a maximum period of 5 years. If you want to stay here longer, you must apply again for the visa when it expires.

Traffic jams and pollution are two serious problems in Vietnam. For a developing country like Vietnam, these two things are hard to overcome in the near future. If you intend to live here for a long time, you should be mentally prepared.

Vietnamese culture and Western culture have many differences. Without first learning, you may have a cultural shock. The more you know about the differences between Western and Vietnamese cultures, the easier it will be for you to integrate and make more friends.
How much to retire in Vietnam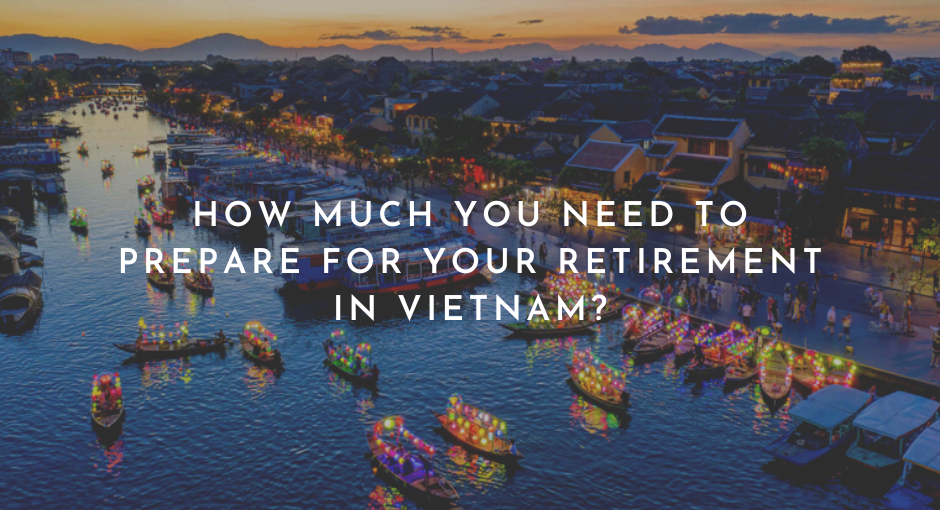 A previous International Living ranking showed that most foreigners can live comfortably in Vietnam for about $800 to $1,200 a month. Your $200,000 savings account would last about 21 years.
Your cost of living in Vietnam for a retirement mainly covers:
Average apartment/house rent and bills: US $200 – 600 (shared)

Meals: US $100 – 300

Grocery: US $100

Leisure: go out and/or eating out once a week: US $100

Mobile phone bill: US $10 (use Wi-Fi for chat apps for communication needs to save your money).
Best places to retire in Vietnam
With a relaxed atmosphere and pace of life, the following places are suitable for old people to enjoy a comfortable life. Where to retire in Vietnam? Here are 5 best cities to retire in Vietnam.
1. Nha Trang
The ideal place for old people is where they can live happily. With that criterion, the coastal city of Nha Trang is rated as an attractive place for people of retirement age.
This coastal city has Ponagar Tower, Mineral Spring, Institute of Oceanography, Long Son Pagoda, Bao Dai Palace, many other interesting and suitable destinations for the elderly to never be sad.
2. Da Nang
Being dubbed the most worth-living city in Vietnam, Da Nang creates an ideal living environment for the elderly. The city is clean and beautiful, with beaches rated as the cleanest, safest and most attractive in Southeast Asia. On the momentum of rapid development, this place still retains a peaceful life.
Wide roads, open sidewalks for pedestrians, Han River flowing through the center to create beautiful landscapes and a gentle climate, all of them combine to form the attraction of Danang. The quality of life is high but the cost of living is not expensive. From Da Nang, the elderly can easily travel to Hue, Hoi An ancient town and My Son sanctuary.
3. Phu Quoc
Phu Quoc is famous as a peaceful destination, like a wonderful pearl in the middle of the sea. Quiet, gentle space with many beautiful beaches such as Sao beach, Ganh Dau, Long beach, Ong Lang, Thom beach … ideal for the elderly to relax on the sand.
The fresh seafood and the rich culinary culture will make the meals here attractive. Visiting Ham Ninh fishing village or going to the semi-wild park which has just opened since the end of 2015 will be unique things that make the life of old people not be boring.
4. Hue
Hue – a place for an enjoyable retirement in Vietnam
The life of people in the ancient capital of Hue is like the Huong River, always slow, calm and deep. The landscape here in addition to the mausoleums and temples also has old houses, tree-lined streets creating a sense of relaxation. Perhaps because of that, this is a comfortable place for the elderly.
Every day listening to the Thien Mu bell, enjoying the aromatic tea, walking into the ancient ruins, sitting and telling stories in the historical land will be interesting experiences in the late afternoon. Besides, Hue food is quite suitable for the taste of the elderly.
5. Hoi An
Located in Central, the weather is harsh but Hoi An has the advantage of turning away from the sea, so the climate is quite pleasant. The peaceful corners of the old town and the highlight of Hoi An will create a calm that is suitable for the elderly.
This place still retains the beloved rural landscape but the living conditions are enough to ensure a comfortable life. The Japanese chose the Dien Ban area along Hoi An as the place to build resorts for the elderly. This proves that enjoying your old age in this area is a right decision.
Things you should keep in mind for retirement in Vietnam
If you intend to live in Vietnam for a long time, you should carefully study the regulations related to visas to comply with the law.

You should first find out some knowledge about culture or learn Vietnamese if possible. Being able to communicate with indigenous people or understand the local culture will make your life in the new land easier.

Based on accessibility and quality of health services, Vietnam ranks 104th among 195 countries. In general, the quality of health services in Vietnam is not as good as in Western countries.

The costs or taxes of living abroad are complicated. Therefore, foreign nationals should hire a qualified lawyer or a tax expert when planning to retire in Vietnam

Foreigners should visit Vietnam many times before deciding to retire here. At the same time, it should be considered from the perspective of a long-term resident rather than a tourist.
Related posts