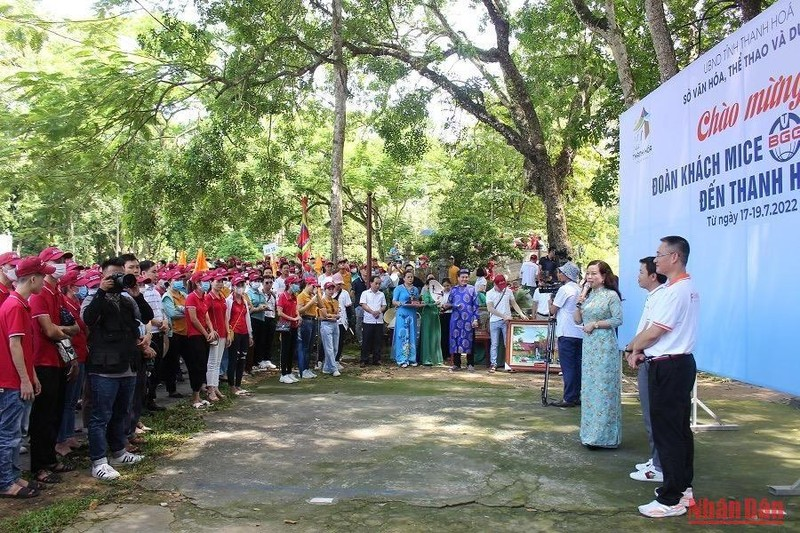 Leaders of Thanh Hoa Department of Culture, Sports and Tourism held a ceremony to welcome the MICE tour group
The group, hosted by Flamingo Redtours (Flamingo Holding Group) from 17th to 19th July 2022, went on an itinerary of Bac Giang - Lam Kinh Relic - Sam Son.
To restore tourism after the pandemic, one of the solutions taken by Thanh Hoa's tourism industry is to uphold MICE tourism - a potential type with the participation of large tourist groups with high spending power.
As the largest MICE group to Thanh Hoa until now, nearly 2,000 visitors of Bac Giang BGG Garment Corporation on a tour operated by Flamingo Redtours were welcomed by Thanh Hoa Province with special rituals.
After arriving in Thanh Hoa, the group was led by a traffic police force along the route Ho Chi Minh - Lam Kinh - Sam Son City; at the same time, leaders of the Department of Culture, Sports and Tourism of Thanh Hoa Province held a ceremony to welcome the group, give flowers and gifts to visitors and tour operator.
Mr. Nguyen Hung Cuong - Director of Bac Giang BGG Garment Corporation, Head of the tour group said: "We are extremely touched by the warm welcome of the leaders of Thanh Hoa's tourism industry as well as the professional organization of the tour operator. We sincerely thank you for this special welcome".
Ms. Vuong Thi Hai Yen, Deputy Director of Thanh Hoa Department of Culture, Sports and Tourism indicated: the successful organization of the event not only shown the effective and close inter-sectoral coordination but also expressed Thanh Hoa's determination in making tourism a spearhead economic sector.
Ms. Yen added, to attract MICE tour groups, besides investing in improving facilities, diversifying tourism products, ensuring a safe and friendly tourism environment, Thanh Hoa tourism industry also focuses on proposing special support policies such as reducing ticket prices, offering more experience activities, supporting security and safety, etc. These policies will be applied in an appropriate manner depending on the size and quality of the group.
From the perspective of a travel company, said Mr. Nguyen Cong Hoan, Director of Flamingo Redtours: the company highly praised the potential of Thanh Hoa tourism converging factors to develop all types from sea tourism, spiritual tourism to MICE tourism with developed infrastructure, ability to provide services for large-scale groups with complex requirements, effective promotion and communication, along with a flexible support policy. Additionally, Thanh Hoa is a bright spot to attract investors in wellness tourism, travel leisure and recreation tourism, etc. With these advantages, Thanh Hoa will become an ideal destination to for MICE tourism and also a tourist hub of the country.
Tourism Information Technology Center
Related posts